About us
Sam's Plaza Pizza Bar turns your classic pizzas into mouth-watering creations. We are experts in the art of dough making as well as pizza creation. Our classic pizza menu includes Hawaiian, Meat Lover's, Americana, Australian, Capricciosa, Mexicana, Chef's Special, Super Margherita, Chicken Hawaiian, Egg and Bacon, and more. We also make gourmet pizzas including Tandoori Chicken, Chicken Deluxe, Satay Chicken, Mango Chicken, Potato Pizza and many more. You can order your own whole or Half 'n' Half pizza from our main branch located at 652 (opposite Highlander Hotel) North East Rd., Holden Hill SA. We can provide you with pickup and delivery services. We can also accept your orders online.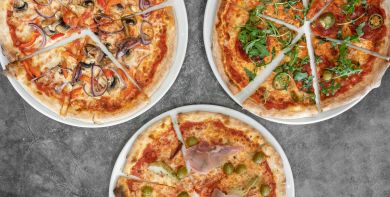 Reviews
Jessi
"Stella job you blokes!! Couldn't ask for a better feed ????"
22/01/2020
Leanne
"One of the best pizza l have consumed."
10/01/2020
Bronte
"First time ordering from here and will be back again! Excellent food and customer service! Definitely recommend! Thank you :)"
8/01/2020
Leanne
"Yummy pizza and friendly service! Thankyou??"
2/01/2020